Custom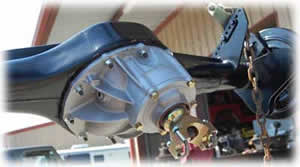 That's right, custom. Completely custom to the point of unique fabrication, one-off mounts, taylor made housings, unique setups from the ground up.
We know that not everything comes in a box. Parituclarly rear ends - which may require custom mouting of spring & shock mounts, slimming down to fit bigger tires inside your wheel wells, or perhaps new big bearing ends welded on.
Jeep drivers & Jeep wheelers - check out our Jeep page here, or our Jeep Customization here.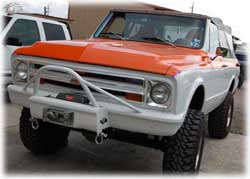 Your needs may be so extreme that a complete custom rear end is called for - with nodular housing, 4-link, over-sized disc brakes, and extreme duty components to handle the power of your high-horsepower motor on the strip, to with stand extreme trail pressure and articulation on the obsticles, or just to impress the onlookers with some extra "wow" for your mall-crawler.
To harness all of the power - slide over that rock - or just because it's trick.
If your needs aren't available in a box or off the shelf - then give us a call at 281-999-6592 or come by and see us.
---
Transfer Case
Modify or replace your stock transfer case for lower gearing, twin sticks.
---
Drive Line
Upgrade your yokes, shafts, and gears to more heavy duty components.
---
Transmission
Improve the stock gear ratios specific to your driving needs.
Replace your 3-speed with a 4 or 5 speed.
---
Differential
Full Spool, electronic or air lockers, or gear lockers - these will help provide traction control when you need it most.
---
Axle
Modify your existing axle such as pinion angle, spring perches, wrap-traps, spring mounts, and more. Or completely swap in a different axle, such as an 8.8, Dana 44, Ford 9", or a 1-ton. We gotcha covered, and we probably have an axle housing available that we can custom build out to your specifications and budget
Completely custom built entire axles - such as one with nodular housing, 4-link suspension, narrowed to fit an exacting specification for your custom car requirements, and decked out with extreme components to handle the insane conditions you'll be driving in.
---
Brakes
Replace your old drum or small disc brakes with custom brakes to stop or hold for your specific needs.
---