Products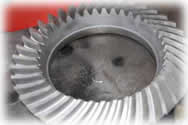 We have a variety of products available for installation which fit your specific drivetrain needs for most vehicle makes and models, including AMC, Chrysler, Dana, Toyota, Ford, GM, and most Imports.
From bearings to complete custom rear ends, we'll ease the hassle of which is best for you and with our experience you can be sure it will be installed right.
Give us a call to or stop by and see us so we can discuss the best options for you.
---
Yukon Gear & Axle

We're happy to offer the full line of Yukon Gear & Axle products, including their new line of differentials. Call us for more information and to check availability for your setup.

Yukon Zip Locker

Selectable Air Locker
Forged case
4320 Chrome-Moly internals for added strength
Assembled in the USA

---

Yukon Grizzly Locker

Patent pending design reduces common failures
8620 internals for added strength
Assembled in the USA

---

Spartan Locker (m

This is a lunchbox style locker that replaces the spider gears in your stock open style differential. Will not work with limited slip carriers.

Check out these videos of the Spartan being trail-tested:
---
Axles: Heavy Duty alloy and chromoly axles for all applications
Bearings:
Transfer Case Overhaul: gears, alloy shafts, seals
Manual Transmission Rebuild: Gears, Shafts
Gear Sets
Bearing Install Includes: Bearings, Pinion Seal, O-Ring, Crush Sleeve, Pinion Nut
Master Install Includes: Bearings, Pinion Seal, Crush Sleeve, Pinion Nut, Pinion Shims, Carrier Super Shims, Slinger, Baffle, Ring Gear Bolts, Brush
Mini Install Includes: Pinion Seal, Crush Sleeve, Pinion Shims, Carrier Super Shims, Ring Gear Bolts
Pinion Install Includes: Pinion Bearings, Pinion Seal, Crush Sleeve, Pinion Shims