Upgrades
Off-Road
Race/Performance
Daily Driver
Off Road

At 249 Drivetrain Service we know the importance of durable drivetrain components. Core to our business is repair or replacing stock parts which didn't make it back to camp. We have extensive experience with most vehicle makes and the necessary setups to help replace stock parts to provde more dependablility when getting off the pavement and in to the rough.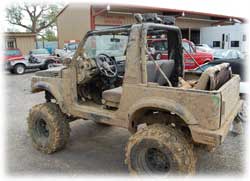 Whatever your flavor of off-roading: TRAIL RIGS, DUAL/MULTI-PURPOSE RIGS, ROCK CRAWLERS, MUD BOGGERS, HUNTING LEASE RIGS
We have experience with all breeds and varieties of off road rides - and extensive experience upgrading Jeeps, Toyota's, Suzuki Samuri's, Early Broncos, Big Broncos, Early and Late Model Ford Trucks, Chevy Blazer's, Early and Late Model Chevy's
---
Transfer Case - Upgrade or Replace
Dana 20 - low gear sets, such as the Tera Low 3.15:1, twin sticks, HD output shafts like the Advanced Adapters 32-spline, and HD yokes

Dana 300 -

New Process 200 or 205 -

Atlas - Go anywhere with the bullet-proof Atlas 2sp or 4sp

Stak - Get the Monster in your drivetrain - available in 2ps or 4sp, or Dana 300
---
Transmission
Gear Sets
---
Differential
3rd Members

Ring & Pinion

Lockers, Positracs, Spools
---
Axle

Ford 9", Dana 44, Dana 60

Durable Bearings & Seals

Heavy Duty Axle Shafts

Drum to Disc Brake Conversions
---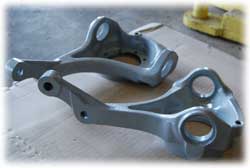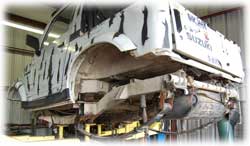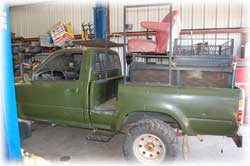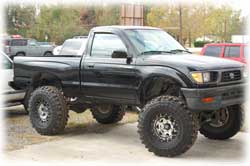 Race/Performance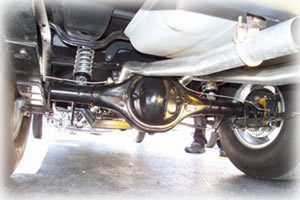 Drivetrain upgrades for your high performance car are an absolute requirement for solid control & to ensure the engine's torque is delivered to the ground, it is equally important that you can depend on your drivetrain. Whether you drive a 1000hp+ beast, a 160hp sleeper, or a midnight outlaw - all of your horsepower investment is meaningless unless the torque you have under the hood is delivered through the proper gearing, suspension, and performance components to the pavement.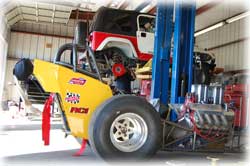 For most, the drivetrain may be the least understood part of a vehicle - we appreciate that and take pride in our in depth understanding and extensive experience building, upgrading, and repairing race and performance vehicle rear ends. Though rear ends are our specialty, we can install upgrades, repair, and custom build any of your drivetrain related componets - this includes brakes, driveshafts, transmissions, clutches & shift linkage, differentials, 4-link custom suspensions, and more.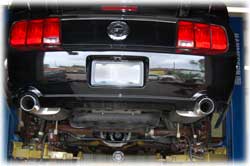 We're familiar with setups for street legal muscle cars, including (and certainly not limited to) Mustangs, Camaros, Firebirds, GTO's, Impalas, Corvettes, to custom strip-only race machines such as dragsters and wheeling kings.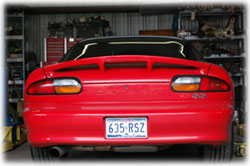 If you're ready to take control of your engines torque or improve the stopping power of your performance vehicle - it is time to give us a call at 281-999-6592 or come by and see us. Tell us what your plans with the vehicle are and let us help you get things right so you can relax and drive.
---
Transmission
Heavy Duty Gear Sets
Custom Flex Plates
Custom / Re-inforced Cross Members
Upgrade input/output shafts & yokes
---
Differential
3rd Members
Ring & Pinion
Heavy Duty Gears
Traction Devices
Spools
---
Axle
4-link Rear ends
Durable Bearings & Seals
Heavy Duty Axle Shafts
Drum to Disc Brake Conversions
Rear ends narrowed
---
Daily Driver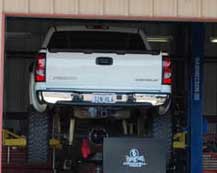 Long commutes are hard on any stock drivetrain, and frequent stop and go will defeat the clutch over time.
If you're running large tires, that increases the wear even more - plus you may have a more difficult time getting your stock gears to pull the vehicle.
---
Transfer Case
Gear Sets
---
Transmission
Gear Sets
---
Differential
3rd Members
Ring & Pinion
Lockers, Positracs, Spools
---
Axle
Ford 9", Dana 44, Dana 60
Durable Bearings & Seals
Heavy Duty Axle Shafts
Drum to Disc Brake Conversions
---