Jeep Specialist

Towing Available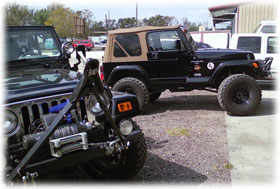 On a given day, there are usually two Jeeps or more at our shop. Some of them are just in for general service and repairs - others are in for something special like lower gears to run bigger tires, upgraded clutches, axle upgrades, or something even more extreme.
This is because the guys who own and depend on these rides know there is no better place in the area to bring their Jeep for customizations, rears, gears, service and repairs than to 249 Drivetrain Service. We're a proud and long standing sponsor of Southern High Rollers, and have experience with every style and model of Jeep ever made.
If your Jeep needs service, perhaps you're ready to step up to the next level on the trail, or you just need to get those big tires moving at the red light without burning up the clutch, then give us a call or better yet, come on by and see us.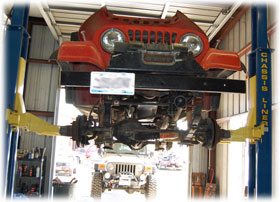 For service, repair, or customization - why place the reliability of your vehicle in the hands of a shop that may or may not know what your special requirements are?
From all era's - late and early models - GP's & CJ's, Willy's, Jeepster's, Cherokee's, Scrambler's and Wagoneer's. Perhaps your ride isn't a stocker - no problem - we're familiar with common and extreme customizations such as lifts, ring and pinion, gear, and axle upgrades. Customized steering, upgraded transfer cases, and more.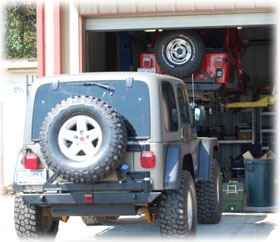 Every Jeep owner has a unique requirement or need, and we appreciate that. Sure, there are cookie cut solutions that can bolt right in - but you may not need all of that, or it may not be the right solution your Jeep needs.
So give us a call or come by and see us - that is really the best way to learn about your specific circumstance.
---
Jeep Axle Swaps
8.8 Axle swaps (we have 8.8 axles in-stock ready to be custom built for you), Dana 44's, Ford 9", 1-tons - the options are endless, and we've dont just about all of them. read more...
---
Custom Jeep Suspension's Installed for your CJ, YJ, TJ, or JK.
Time for a lift it or perhaps just smooth out the ride?
If you are ready to lift your Jeep or improve the stock suspension - give us a call or come on by. We offer installation of B.D.S. Suspension and PRO Comp suspensions installed, and if you're going to larger tires - we can take care of the lift kit installation as well as proper gearing. read more...
---
Transmission rebuilds, transmission swaps, replacements, and conversion
Time to overhaul or upgrade that transmission?
Look no further - we can replace and install conversion kits for most popular Jeep transmission conversions. We have several transmissions in-stock, new or rebuilt, and ready to go - including T-150, T-4, T-5, T-176, AX-5, AX-15, and NV3550. We can't say this enough - give us a call or come by to see us. read more...